Please find Antoni's bio, A/V requirements, logos and high resolution pictures, that you can use at your event. If you miss anything, don't hesitate to get in touch.
Tech requirements/rider for on-site and online keynotes
A "bar table" on stage with room for

A laptop
An iPad
An ATEM mini

An HDMI connection to plug in to the Atem Mini
A least two power-outlets.
I might use sound. Please ask me. If so, I need a mini-tele (3,5 mm) connected to my Mac.
Headset: I have a DPA4488 headset with connections to Sennheiser (mini-tele) and Shure (mini XLR) sound systems that I wish to use. If other sound systems are in place, please provide a headset. 
A watch or a countdown clock to keep
time.
Possibly two Flip charts on stage.
A chair.
Entrance music for larger events. Feel free to use this
Filming: in agreement with Antoni (scrol down to Terms and conditions)
If food is served: preferably vegetarian.
A Pre-testing of the system.
A co-host handling chat, tech,
spotlighting and possible breakouts.
Pre event questions - practical and strategic
Practical matters
Strategic matters
Practical matters
Practical matters
Date?
Place?
Name and theme of the event?
Approximate number of participants?
The demographics of the participants in the audience (functions, gender balance, age etc.?
Approximate timeframe of Antoni's speech?
Do you want Antoni to also run a workshop, a breakout or participate in a round table or panel?
Are you planning to purchase copies of Antoni's books to give to your attendees?
Strategic matters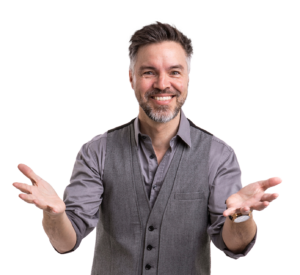 Below you will find a variety of paragraphs for Antoni Lacinai's bio. You are free to pick and choose which sentences and paragraphs you want to use in the marketing of your event. Feel free to contact Antoni if you want a tailored spin on this.
Antoni Lacinai is an international expert on Workplace Communication. 
His business passion is to decipher the mysteries of human communication, especially around conscious leadership, employee engagement, and customer service. 
As a global speaker, he has been invited to speak on most continents, and he has coached thousands of executives and teams around the world. When large international organizations or national governments need to elevate for instance their leadership-, sales- and presentation skills they reach out to Antoni and his unique blueprint called Communication Insights. 
To date, he has written and co-written 14 books and hundreds of columns and articles. He is a regular columnist in various magazines and is often interviewed on Swedish national TV.
Antoni was nominated as The international speaker of the year in Finland in 2022. In 2019 he came in 3rd place at the Swedish Championship of Storytelling, and he has also been voted one of the most popular speakers in Sweden in the last five years. His TEDx talk has been an inspiration to more than 300,000 viewers.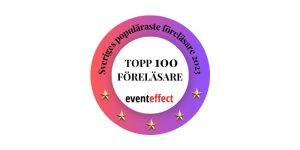 Antoni Lacinai loves to create illustrations for his keynotes, songs for his friends, and business blueprints for his customers. 
Antoni Lacinai is an international keynote speaker and workplace communication expert, at the cross-point of Conscious leadership, Customer focus, and Employee engagement. He is often interviewed on national Swedish media and TV and is a regular columnist in various leadership magazines.
Antoni Lacinai is a keynote speaker, author, and executive coach on Workplace communication. He is at the cross-point of Leadership- and Customer communication as well as Employee engagement. 
Antoni Lacinai supports leaders and teams who want to be world-class communicators. utilizing a unique blueprint, based on deep psychology and years of research, This facilitates massive outcomes – and more fun at work. His firm belief is that if we get along better we will collaborate better, and if enough good people and corporations do that, we will have a chance to break the downward spiral of the climate crisis and help our young people with their future. 
Antoni delivers with positive energy and high clarity. His keynotes are filled with inspirational insights and a strategic outlook, as well as concrete tips on how to lead, serve and collaborate better. All this to have a more motivating work life and get better results.
Antoni is an author and co-author of 13 books on communication, a regular columnist at leadership magazines, and is interviewed on national TV and media. 
He has continuously studied leadership, consciousness, marketing, psychology, mental training, NLP, coaching, and more.
Antoni is a board member of the National Speakers Association – Sweden, as well as the Global Speakers Federation. He is also a member of the Virtual Speakers Association International.
Antoni Lacinai is a Certified Virtual Presenter
Added to this, Antoni Lacinai is also regarded as one of Sweden's best moderators and the perfect go-to person if you want a professional moderator who is not a celebrity stealing the focus from the content. In this capacity, he has shared the stage with people like Simon Sinek, Gary Kasparov, Arianna Huffington, ministers, etc.  
Before his career as a keynote speaker, Antoni worked in the IT/telecom industry in various leading positions, in sales and marketing, from 1990.
Antoni lives in the south of Sweden where he spends most of his time with his family and friends between assignments. He also debuted as a fictional writer in 2020. 
Top Ten Fun Facts about Antoni Lacinai
In 2019 he won third place in the Swedish championship of Storytelling!
In 2020, his first fiction book was published. A major milestone, making Antoni finally claim that he might be an author after all…
Antoni likes to write songs on his 30-year-old guitar that never will be heard on the radio…
When Antoni was a child, his dream was to be a football (soccer) pro. To this date, he believes he is still a great talent…
The illustrations on Antoni's slides and in his books are his own creations. He loves to draw simple sketches.
Top three books Antoni has read: The secret life of trees, Pope Johanna and The kite Runner.
Hammers, screw drivers, rulers… All deadly weapons in Antoni's hands since he has no idea of how to use them -to his family's great frustration…
Born in Sweden Antoni is a mix of Albanian, Slovakian, Serbian, Croatian, possibly Hungarian and Greek.
Apart from the usual studies within leadership, sales etc. he has studied mental training, performance development, micro expressions, NLP, coaching, DISC, Consciousness and the brain etc., with great satisfaction. But the magic happens when he create new models, formulas and concepts that help his clients. 
Antoni's favorite quote: "We make a living by what we get. We make a life by what we give" – W. Churchhill
Feedback to your performance has been fantastic. Like I said, you really are the best performer we had at MELT. Your name was almost on every feedback form people filled as favorite performer
It was a great pleasure having you at our conference! Your presentation was outstanding! Thank you for the inspiration and cooperation.
Thank you Antoni for a very inspiring speech! It's crazy how your energy translates just as well on screen as on a live-stage!
Thank you so much for your online Keynote! Incredible that an hour went by so fast! And everybody stayed. Excellent work!
Antoni is a very energetic, inspiring and, yet, very insightful speaker. And from my long years of experience, it does rarely go together.
Thank YOU! It was our pleasure to have you with us. We enjoyed your presentation and the subject is important for us.
Hi Antoni! What a great finishing keynote you gave. Incredibly inspiring and thought provoking!
Wow, 94 % of the attendees gave you the highest score. An incredibly high rating, and mostly thanks to your way of using storytelling in your keynote.
Your Keynote was entertaining, energetic and perfectly tailored to out audience. One of the best keynotes we've had!
Hello Antoni, wanted to thank you for yesterday's presentation. one of the most memorable presentations I've seen!
"Your keynote on goal setting was one of the best ones I have ever experienced
I must say that your speech has been the most inspiring that I have heard lately. I will definitely read your book about employee engagement as well! Thank you Antoni Lacinai! 🙂
Terms and conditions when booking Antoni
Payment terms:
You will be invoiced when you confirm the assignment, with 30 days of credit time. If you prefer it another way, then simply talk to Antoni and reach an agreement.
Choose if you want an all-inclusive proposal including travel, hotel, per diem, etc., or if you want that part separated from the delivery fee.
If you are a non-profit organization (e.g., WWF, Greenpeace, UN, Municipalities, etc.) you have a 10% discount on the delivery fee
Cancelations:
If you need to cancel or postpone the event, you will have a voucher for the whole amount, valid for a full year from cancelation
If Antoni needs to cancel (illness, death in the family, force majeure) Antoni will deliver to you at another time, and pay that extra travel cost himself, or try to help you find another person who will replace Antoni at the given date.
Travels:
Travel cost is excluded in a proposal unless agreed upon or communicated otherwise.
Travel cost means all means that are needed to get to and from the venue, and also stay at the venue.
Agree with Antoni on who handles the travel- and hotel bookings, pre-ordered taxis, etc.
For longer, international flights (more than 4 hours), business class tickets are standard.
For shorter flights (less than 4 hours), economy is fine, if the tickets are re-bookable and not fixed.
Video, photos, etc.:
Take as many pictures as you like, and make sure Antoni gets a copy of the ones with him on it.
Feel free to record Antoni's session, and make sure Antoni gets a copy of it.
If you want to publish the recording after the event, it is ok to show it for a period of one month (so that participants who couldn't join the session get a chance to watch it). If you want a more extended availability, then talk to Antoni about it.
Code of Conduct, and Agenda 2030:
Antoni supports the UN's Agenda 2030 goals for decent work, responsible consumption, and production, as well as peace, justice, and strong institutions. He travels responsibly to make a minimal impact on the planet and buys CO2 compensation for every single flight. 
He won't take any part in corruption, nor work with businesses who ruthlessly exploit the planet or the people on it.