Please find Antoni's bio, A/V requirements, logos and high resolution pictures, that you can use at your event. If you miss anything, don't hesitate to get in touch.
Rider for on-site and online keynotes
A "bar table" on stage with room for
A laptop
An iPad
An ATEM mini
A glass of mineral water.
An HDMI connection. Possibly sound.
Headset.
Possibly two Flip charts on stage.
A chair.
A watch or a countdown clock to keep
time.
Entrance music. Feel free to use this
If food is served: preferably
vegetarian.
Filming: in agreement with Antoni
A Pre-testing of the system.
A co-host handling chat, tech,
spotlighting and breakouts.
Pre event questions - practical and strategic
Practical matters
Practical matters
Date?
Place?
Name and theme of the event?
Approximate number of participants?
The demographics of the participants in the audience (functions, gender balance, age etc.?
Approximate timeframe of Antoni's speech?
Do you want Antoni to also run a workshop, a breakout or participate in a round table or panel?
Are you planning to purchase copies of Antoni's books to give to your attendees?
Strategic matters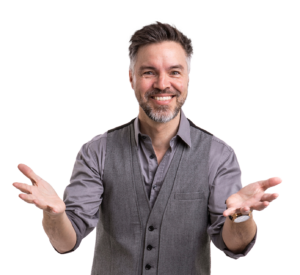 Below you will find a variety of paragraphs for Antoni Lacinai's bio. You are free to pick and choose which sentences and paragraphs you want to use in your marketing of your event. Feel free to contact Antoni if you want a tailored spin on this as well.
Antoni Lacinai loves to create illustrations for his keynotes, songs to his friends and business blueprints to his customers . He has a unique way of making complex matters simple. A perfect excuse to never learn more than four chords on his guitar…
Antoni Lacinai is a keynote speaker, author and an executive coach on Workplace communication. He is at the cross-point of Leadership- and Customer communication as well as Employee engagement. 
Antoni Lacinai support leaders and teams who want to be world class communicators. utilising a unique blueprint, based on deep psychology and years of research, This facilitates massive outcomes – and more fun at work.
Antoni delivers with positive energy and high clarity. His keynotes are filled with both inspirational insights and a strategic outlook, but also concrete tips on how to lead, serve and collaborate better. All this to have a more motivating work life and get better results.
Antoni was nominated as The international speaker of the year in Finland 2022. In 2019 he came in 3rd place at the Swedish championship of Storytelling, and he has also been voted one of the most popular speakers in Sweden the last four years. His TEDx talk has been an inspiration to more than 200,000 viewers.
Antoni is an author and co-author of 13 books on communication, a regular columnist at leadership magazines and is interviewed on national TV and media. 
He has continuously studied leadership, consciousness, marketing, psychology, mental training, NLP, coaching and more.
Antoni is a board member of National Speakers Association – Sweden, as well as Global Speakers federation. He is also a member of Virtual Speakers association International.
Antoni Lacinai is a Certified Virtual Presenter
Added to this, Antoni Lacinai is also regarded as one of Sweden's best moderators and the perfect go-to-person if you want a professional moderator who is not a celebrity stealing the focus from the content. 
Before his career as a keynote speaker, Antoni worked in the IT/telecom industry in various leading positions, within sales and marketing, from 1990.
Antoni lives in the south of Sweden where he spends most of his time with his family and friends between assignments. He also debuted as a fictional writer in 2020. 
Terms and conditions when booking Antoni
Payment terms:
You will be invoiced when you confirm the assignment, with 30 days credit time. If you prefer it another way, then simply talk to Antoni and reach an agreement.
Chose if you want an all-inclusive proposal including travel, hotel, per diem etc. or if you want that part separated from the delivery fee.
If you are a non-profit organization (e.g., WWF, Greenpeace, UN, Municipalities etc.) you have a 10% discount on the delivery fee
Cancelations:
If you need to cancel or postpone the event, you will have a voucher for the whole amount, valid a full year from cancelation
If Antoni needs to cancel (illness, death in the family, force majeure) Antoni will deliver to you at another time, and pay that extra travel cost himself, or try to help you find another person who will replace Antoni at the given date.
Travels:
Agree with Antoni on who handles the travel- and hotel bookings, pre-ordered taxis etc.
For longer, international flights (more than 4 hours), business class tickets are standard.
For shorter flights (less than 4 hours), economy is fine, if the tickets are re-bookable and not fixed.
Video, photos etc.:
Take as many pictures as you like, and make sure Antoni gets a copy on the ones with him on it.
Feel free to record Antoni's session, and make sure Antoni gets a copy of it.
If you want to publish the recording after the event, it is ok to show it for a period on one month (so that participants who couldn't join the session get a chance to watch it). If you want a longer availability, then talk to Antoni about it.